In your account, click the "New Article" tab on the left side of the page.
Writing module
This is the writing module that you will encounter when you start a new article.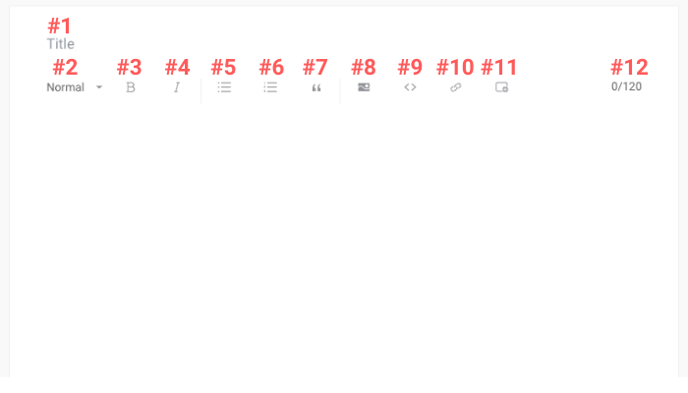 Each number is explained below.
Title. Write your headline for the post here.
Style. This allows you to switch the format of your text between Headline, Subtitle, and Normal. You can highlight text and use this button to break up your post into more easily visible sections with sub-headlines more easily.
Bold text. Highlight any text and click this button to make text Bold.
Italic text. Highlight any text and click this button to make text Italic.
Bulleted list button. You can hit it to start a bulleted list from scratch or highlight multiple rows of text to apply bullets to them.
Numbered list button. You can hit it to start a numbered list from scratch or highlight multiple rows of text to apply numbers to them.
Block quote button. Highlight text and hit this button and it will break out into its own special paragraph that will appear in italics on the front-end once published.
Upload image button. You can click the box that pops up to find an image saved to your computer to upload or you can drag and drop an image into the box. Once your image is uploaded to the module, hit the Insert button to drop the image wherever you placed your cursor. Read more on sourcing images.
Embed content button. Use this button to embed social media. For it to work, you must grab the embed code from a given tweet, Instagram, Google map, etc. In every case, copy the embed code in full. Click the embed content button and paste the embed code. Hit enter and the platform will pull the multimedia into the post.
On Twitter, you can find the embed link in the three vertical dots in the top right corner of the tweet.
On Instagram, you can find the embed code in the three little dots on the top right corner of the comment box.
Link function. Use it to hyperlink any text by highlighting the text, pasting the link and hitting Enter. Do not use the embed link in the link button for embedding content. It doesn't work. Use #9, the social card button.
Widget "follow" button. Whatever account you're in, this will create a widget button that allows readers to follow and subscribe to that account.
Character counter for the headline. Headlines can have a maximum of 120 characters.
Saving
Once you've added text and a headline, you can save your post as a draft by clicking "Save as draft" on the bottom. If you want to leave and return to it later, you can click "Manage Content" tab and then select the "Drafts" column to see a list of your draft posts. Hit the small "pencil-in-a-box" button to edit the draft and continue writing.
Preview
You can preview how your article will look on mobile by hitting "Preview." And to get back to the writing module, hit the back button at the bottom of the mobile preview.
Publish
When your article is ready to publish, hit the "Ready to publish?" button. Once you do so, you'll be asked to choose a location, either all US states or the U.S. city where the story occurred. Be cognizant of the state and city as there are many cities with the same name in the United States.
Editing after publish
If you make any edits to your article after publishing, it will be resubmitted to our team for moderation and may take up to 24 hours to be approved. With that being said, we encourage you to triple check your work prior to publishing so that you can avoid this delay.